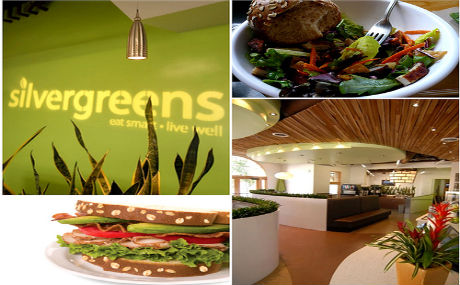 At Silvergreens we believe that if you eat smart, you will live well.
From our breads, soups, dressings and hand-cut fries, to roasting our own meats and vegetables, our menu is made from scratch each day using fresh, natural and local ingredients. This allows us to control the flavor and nutrient value of each item. Our mission is to make our food as healthy as possible without compromising taste, thereby enabling you to eat responsibly and indulgently at the same time.
Silvergreens is also Santa Barbara's first Certified Green Restaurant™. The design and construction of the restaurant was certified through Santa Barbara's Built Green Program, where the project received the highest rating of three stars. In addition, Silvergreens has partnered with the Green Restaurant Association in order to help sustain many green practices throughout the restaurant's operations. Silvergreens restaurants are the first in Santa Barbara to complete the GRA's certification process as well.
We welcome the opportunity to serve you and do our small part to help people live healthier lives. We recognize that sustainability is a worthy goal for the environment, our community, and your lifestyle.